Product descriptions:
Sintronic independently develops the Face Recognition access controller which is a new generation of face recognition all-in-one machine, adopts the latest face recognition algorithm developed by Justin, and uses the uniqueness of facial features for precise recognition and confirms the personnel's access authority. It is widely used in schools, office buildings, residential quarters and large parks.
It can be used to control pedestrian access gates and can also be used for access control management. Support multiple verification methods such as ID card, smart IC card, QR code and face.
The product is equipped with a background management system for users to inquire about the face and historical data in the database. A variety of visitor registration methods such as WeChat Mini Programs, WeChat Official Accounts, and self-service visitor terminals for personal identification verification can be deployed to adapt to different scenarios for flexible use
Technical Parameters:
Input voltage:12DC
Face store capacity:20,000 Units
Pixel:200W
Wiegang26/34 output
1 unit of RJ45 10M/100M interface
1 unit of Micro SD interface,Max in 32G
2 units of switch signal output
1 unit of audio signal output
1 unit of alarm signal input
1 unit of RS485 interface
Features:
·Large face library capacity, supporting MAX 50,000 face libraries
·The recognition speed is fast, and it only takes 0.4 seconds to recognize the face of 1:50,000 people.
·The product has good heat dissipation and waterproof effect, which can meet outdoor use.
· It can be used in a single machine or in multiple machines to form a large-scale business system.
·The built-in 8-inch high-definition screen displays the comparison results in real time.
·Easy to access and can be used flexibly with gates and other equipment.
·Single machine power is low, environmental protection and energy saving.
·Support reading face photos on ID cards and IC cards for 1:1 face verification.
Advantages:
1) Dynamic face recognition
The product can capture the face of the passer in real time and compare it with the face database. After the comparison is successful, the comparison result will be displayed on the screen.
(2) Personal identification verification
The product can read the ID photos of the ID card or IC card through the card reader, and compare the face with the photos captured by the camera 1:1;
(3) Management of personnel passing records
The product can save personnel travel records, and the recorded information can be sent to the background management platform for users to query and statistics;
(4) Face database management
Users can add, modify, and delete permitted face photos in the face library of the product's background management software, and the updated data of the face library will be automatically synchronized to the device;
Wiring Diagram: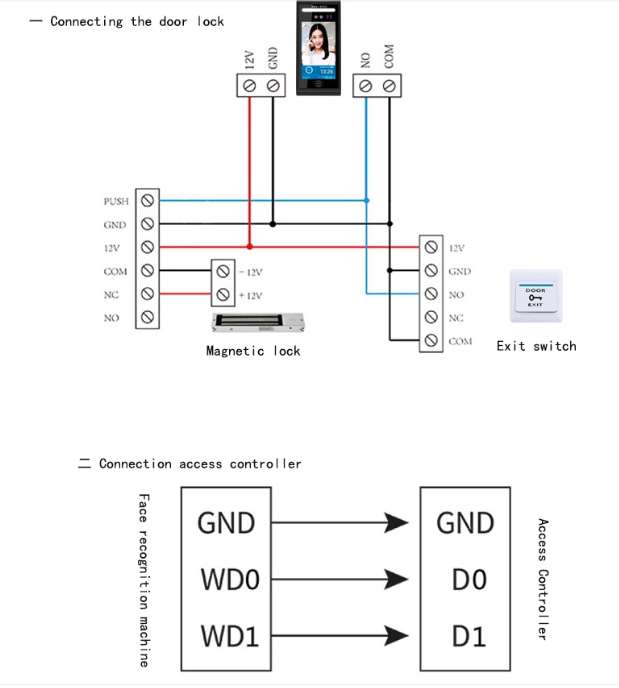 Install Example:
·Face all-in-one machines are installed in the entrance and exit passages of stations, wharves and tourist attractions to achieve face verification.
·Face verification is used in ticket inspection channels such as exhibitions and swimming pools.
·Import and export access control for communities, factories, enterprises and institutions.
·Special channels are controlled by face recognition.