Brief Descriptions:
We can provide different options of the RFID standalone access controller for different project applications
From plastic material to metal material ,indoor to outdoor and now we are commited to develop more fashionable
And innovated products such as bluetooth function, barcode function, to support the market demanded
Technical Parameters:
Card Capacity:1000cards
Card Type :EM card /IC Card
Reading Range:5-8cm
Operation Mode:Card, Card+Password
Working Voltage:12V DC+-10%
Dimension:120*78*22
CE /FCC/ROSH Qualify
Basic functions:
1.completely independent access control, can directly implement user passwords, card management and other functions
2.keyboard input, support card, password, card plus password, password + password to open the door in four
3.supports two modes of operation, normal mode and safe mode
4.supports three user levels 1. Ordinary users 2. Security User 3. Advanced users
5.reader sensor with high sensitivity, less than 0.1 seconds
6.supports a password to open the door, stand-alone card capacity up to 500
7.high-quality nickel alloy metal material, having a tamper alarm and door sensor alarm functions
8.exit button and doorbell input function
9.the surge absorption protection
Features:
1.The our RFID standalone access controller is base on a single door multifunction standalone access controller or a Wiegand output keypad or card reader.
2.The inbuilt card reader supports 125KHZ EM cards and 13.56KHZ IC or Mifare cards. This unit has the inbuilt upscale microprocessor which make the unit very jamproof ,safe and reliable.
3.It is suitable for mounting either indoor or outdoor. This unit supports up to 2000 users in either a Card, 4 digit PIN, or a Card + PIN option.
4.The unit has many extra features including lock output current short circuit protection, Wiegand output , and a backlit keypad. These features make the unit an ideal choice for door access not only for small shops and domestic households but also for commercial and industrial applications such as factories, warehouses, laboratories, banks and prisons.
Advantages:
1. The integrated product of reader and controller, the system is more stable;
2. Multiple functions in one: attendance, access control, patrol;
3. Support a variety of door opening methods: password, card swiping, remote opening;
4. Communication method: RS485, the standard communication distance is 1200 meters, it can be extended by adding a repeater in special circumstances;
5. In the networked state: when illegal entry, door locks are broken, etc., the system will send out real-time alarm information and transmit it to the management center computer;
6. Can flexibly set the cardholder's door opening authority, door opening time, and the time zone within which the cardholder is authorized to open the door;
7. Support various electric locks;
8. In the networked state: image capture and electronic map functions are optional, and images can be captured and saved when swiping the card, which can prevent swiping on behalf of the card;
9. In the networked state: the central management system can remotely control the electric lock switch;
10. It can support multiple conditions and flexible combination to query the pass records, sort report data in different orders, support report data printing and export to file functions;
11. The system is an open, building-block structure that can be used with Sintronic parking lot/elevator/attendance/consumption/channel smart card;
Install Examples: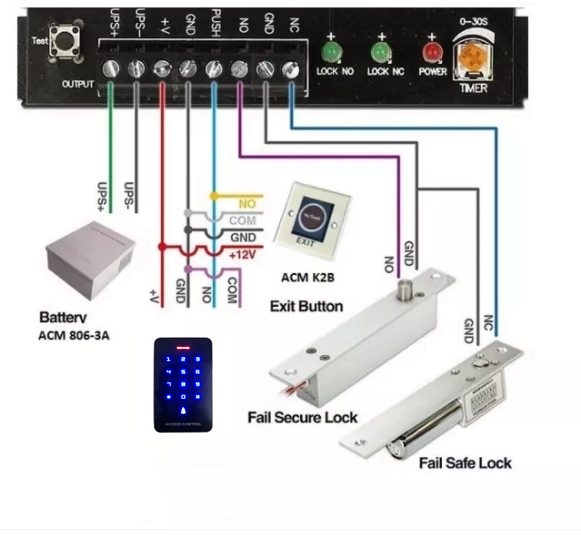 Packages:
our standard package is packed by box